General Information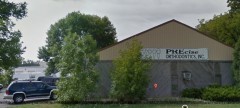 Questions & Answers
Guarantee
PREcise guarantees competitive pricing, excellent workmanship and faster production times for all appliances.
Each appliance, fabricated by PREcise Orthodontics, INC.™ is fully guaranteed for the lifetime of the appliance. PREcise will repair or replace the appliance at no charge if failure or breakage results from defective materials or faulty workmanship. PREcise guarantees each appliance to fit the working model provided by the orthodontic and/or dental office for the fabrication of the appliance.
Charges may apply in circumstances of needed design changes, dentition changes or poor fit due to the quality of the working model(s) or impression(s) provided for fabrication.
The stated guarantee does not cover any appliances that have been abused or altered by the patient or the ordering orthodontic or dental office staff. We reserve the right to determine possible patient abuse, alterations to the appliance and quality of fit to the original model.
In the event that an appliance requires consideration, we require the return of the appliance along with the original cast model(s) it was fabricated on and the wax bite, a new cast model(s) or impression(s) and a new prescription sheet detailing the concern or difficulty. Management will be happy to review any concerns.
Normal In-Lab Production Times
Appliances:
Fixed: 3 Days
Removable: 3 Days
Functional: 5 Days
Holiday Schedule
PREcise Orthodontics, Inc. observes several National Holidays. Some adjustments will be necessary for PREcise Orthodontics, Inc.™ to meet delivery and placement dates for appliances due to holidays. These adjustments may include changing the date or time of deliveries and pickups and/or shipping dates. Please tap below for the current year's Holiday Schedule.
PREcise Orthodontics, Inc.™ will do whatever is possible to meet any reasonable requested due date. We recognize that there are occasionally unforeseen circumstances that necessitate an emergency or "rush" service. Please call ahead to schedule a rush case. There will be no additional charges for the "rush" service. You also may choose to upgrade the return shipment to UPS Next Day Air service. Please ask our management for pricing quotes.
We request that you specify the placement date on the "Return Date" section of each prescription sheet. Please allow sufficient time in transit for both the incoming shipping and return shipping when considering your placement dates. In general please allow 7-10 days for time in transit and production time for appliances. If we will not be able to meet the requested placement date we will contact your office upon receipt of your case to discuss possible alternative arrangements.
Shipping
PREcise provides prepaid priority mailing labeled bags, impressions packaging Biohazard Safe-T-Bags, model(s) packaging foam, PREcise labeled packaging cartons and prescription sheets for your shipping convenience. Please contact us at (800) 517-9424 to request materials.
Please see our section on Mailing/Packaging for a complete listing of packaging instructions.
Place the provided PREcise packaging carton into the mailing bag and deposit at any United States Postal Service or give to your local postal carrier. Finished appliance cases are returned to your office via United Parcel Service Standard Ground Service. Shipments usually take 1 to 4 business days depending on your location.
A shipping charge is assessed to each billing invoice that is included with each finished case. The shipping fee is determined by the number of cases received in a package for fabrication from your office. The process of consolidating cases or "bundle" packaging ( taping several boxes together for shipment ) can greatly reduce your overall shipping costs. Packaging 5 or more patient cases in one combined shipment qualifies for totally FREE shipping within the United States.
We utilize UPS Online Shipping services and offer tracking options. Additionally, packages may be tracked directly through United Parcel Service.
Additional Shipping Options Available:
UPS Next Day - Early Delivery By 8:30AM
UPS Next Day - Delivery By 10:30AM
UPS Next Day / Saver - Delivery By 3:00PM
UPS 2nd Day / AM - Delivery By 12:00PM
UPS 2nd Day - Delivery By 5:00PM
UPS 3 Day Select
Discount Plan
PREcise Orthodontics' appliances are not only competitively priced, but we also offer a special VOLUME DISCOUNT PLAN. Contact Us For Details and Qualifications. (800) 517-9424
Additional Services:
Credit Accounts with Net 30 payment.
Pick-up and Delivery Service: For your convenience we offer pick-up and delivery service to certain areas of Southeast Wisconsin and Northern Illinois. Contact Us For Service Areas and Details. (800)517-9424
Employment Opportunities
PREcise Orthodontics' is always looking for the most talented, committed people to join us.
If you are interested, please print and fill out the following Employment Application.
Then send it to us at
Precise Orthodontics, Inc.
PO Box 633
Burlington, WI 53105
or FAX it to us at
262-767-1441